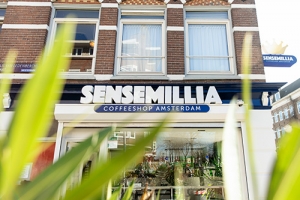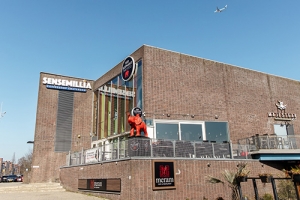 Sensemillia is the no-nonsense coffeeshop in Amsterdam and has been around for 40 years now! We have two great locations in Amsterdam. Why are we so successful? Let us explain! Our enthusiastic team buys high-quality products for local prices. We're friendly to friendly customers, we give advice if you ask for it, and we're happy to share our knowledge with you.
Sensemillia Osdorp (Nieuw-West) has been around since 1981 and is the first coffeeshop in Amsterdam that you encounter when coming from Schiphol. Situated along the banks of Amsterdam's largest lake, it is a great setting that makes a stroll from the heart of the city worthwhile. Don't worry about getting hungry or thirsty because in the neighborhood of this branch of Sensemillia, you will find Red Elephant Thai Food, an excellent restaurant for delicious traditional Thai food! Sensemillia is easy to reach via the A4, A9, A10 and A5 with plenty of parking spaces available. It is also very accessible if using public transport.
Our second Sensemillia branch is just outside of the center at Gilles van Ledenberchstraat 135 and is one of Amsterdam's oldest coffeeshops. You can always call or e-mail us with any questions.
Amsterdam West
Monday to Sunday 09:00 a.m. – 01:00 p.m.
Amsterdam Centrum
Monday to Thursday 09:00 a.m. – 00.00 p.m.
Friday 09:00 a.m. – 01:00 p.m.
Saturday 10:00 a.m. – 01:00 p.m.
Sunday 10.00 a.m. – 00:00 p.m.
AMSTERDAM WEST
MEER EN VAART 177B
1068 LA AMSTERDAM
T +31(0)20 619 8846
AMSTERDAM CENTRUM
GILLIS VAN LEDENBERCHSTRAAT 135
1052 VE  AMSTERDAM
T +31(0)20 686 5144